July 20, 2005
IF IT was situated anywhere else in the US, the Los Angeles life sciences industry might get a bit more recognition. But unfortunately for the biotech and pharmaceutical companies located there, they happen to sit between two of the US's leading life sciences hubs – the San Francisco Bay Area and San Diego. So they face some hefty local competition in terms of recruitment, investment and acclaim.
Considering that LA hosts the world's largest biotechnology firm, Amgen, its status as little brother in California is difficult to comprehend. Amgen pulls the region up to second in the nation when it comes to public biotech company revenues and R&D spending, according to a recent report by consultancy Ernst & Young.
But Amgen's presence has yet to translate into an entrepreneurial environment like San Diego or San Francisco, where investors are keen to support young companies. In fact, when Amgen started its own venture capital arm with a $100 million fund last year, it placed the headquarters in biotech-focused San Diego rather than the LA area.
"There have been some spin-outs from Amgen, but nowhere near the number you have seen come out of Genentech in the Bay Area," notes Tracy Lefteroff, a PriceWaterhouseCoopers life sciences analyst. Instead of starting up close to home, researchers and executives are moving out of the region to set up their companies, he says, because the area has fewer alternative job opportunities if the venture fails.
With fewer start-ups, the relative dearth of venture capital continues to be a problem for emerging life sciences companies in the area. After several stable years, last year venture capital for life sciences companies in the region was cut by half, from $270 million the previous year to $136 million, according to Dow Jones VentureOne and Ernst & Young. In the same period, life sciences venture investment in the Bay Area increased by 20 per cent, and in San Diego by 43 per cent.
LA's lack of venture capital funding despite regional potential is bemoaned in a recent issue of the newsletter SoCalBio Synergies, produced by the area's life sciences industry group, the Southern California Biomedical Association (SoCalBio). It points out that the six counties of Greater Los Angeles are home to only seven venture capital firms that actively invest in the life sciences industry, and that just five of these are interested in early-stage deals. "This scarcity of local smart money can make it difficult for start-ups to develop new ideas. It can also make them vulnerable to cherry-picking by venture capital firms from the Bay Area or East Coast," it adds.
"The scarcity of local smart money can make it difficult for LA start-ups to develop new ideas"
SoCalBio is working to make investment in the life sciences more appealing both to companies running regional employee pension programmes and wealthy individual investors. It hopes to announce in the next few months that a local pension programme is willing to devote a small percentage of its funds to LA life sciences companies.
Local and state governments are also focusing on driving the life sciences industry in the LA region. Improving technology transfer and lowering business costs are at the heart of a 10-year plan for the LA area issued by the California governor's office last year.
But a lack of funding isn't the only difficulty for start-up companies: there are simply fewer ideas to invest in, according to SoCalBio founder Ahmed Enany. The University of Southern California (USC) and the University of California, Los Angeles (UCLA), have done a poor job of commercialising their research, he argues. UCLA has produced only 18 biomedical spin-offs, while the USC has generated 16. In comparison, the University of California, San Diego (UCSD), and the University of California, San Francisco (UCSF), have yielded more than 60 biomedical companies each, and Stanford University is a clear winner with 94 firms (see Chart).
This is despite the fact that UCLA gets the seventh largest amount of university funding nationwide from the National Institutes of Health, and is second only to UCSF in California. "That's what goes in, but you see a disparity in terms of what comes out," notes Enany. "Stanford doesn't get as much NIH money, yet they spin out many more companies." In the last decade, technology transfer has improved at UCLA, more so at USC and the California Institute of Technology, but it needs to go further, he says.
The Los Angeles region's scarcity of spin-offs, major life sciences companies and venture capital mean the industry looks quite different from that in San Diego and the Bay Area. While it watches its neighbours grow from strength to strength, the region has a number of hurdles to tackle if it wants to copy their success.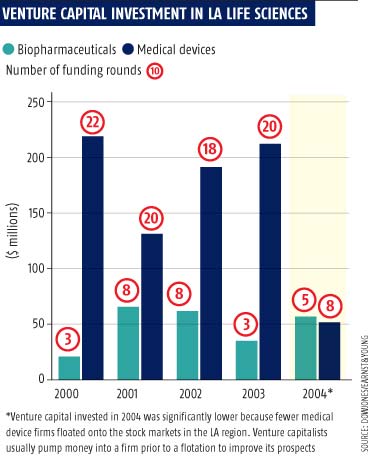 A hub for medical devices
The Los Angeles region may be behind when it comes to drug discovery and development, but it it is a national hub for medical device companies. Unlike biopharmaceutical firms, medical device firms tend to be less reliant on the venture capital and university technology transfer that is so scarce in the region, and consequently they have thrived.
"In San Diego and the Bay Area you find companies more focused on R&D and whose products are still in the clinic," notes Rich Mejia, Ernst & Young director of life sciences for southern California. "In the Los Angeles region, companies tend to be more mature and product-oriented."
Only Minneapolis, Minnesota, has more medical device companies, according to a recently released assessment of life sciences centres in the US by the Milken Institute, an economic think tank based in Santa Monica, California. Almost 27,000 people are employed in this sector in and around LA, the largest number for any US metropolitan area.
Major medical device companies like Advanced Medical Optics, Edwards Lifesciences, and Baxter are among the most prominent in the region, and their presence tends to encourage new companies, according to Tracy Lefteroff of PriceWaterhouseCoopers.
Venture capitalist Charles Warden is one investor who is taking note. He specialises in investment in medical device companies and describes the Los Angeles region as an enormous opportunity. And last year, he moved from Boston to Orange County to take advantage of the strong medical device community and abundant talent.